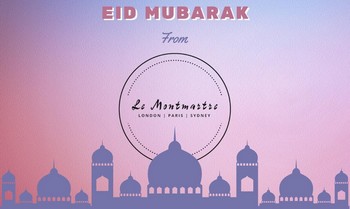 At Le Montmartre have always enjoyed involving ourselves in as many of the world's cultural opportunities as we could (as a team we've gone to Portugal, Morocco, and even New York together). Our staff all have various backgrounds and nationalities that give us an in depth and personal reason to consider inclusivity in the world of corporate catering. So each year, we create a calendar of events that we know the diverse population of London would most certainly enjoy celebrating together, as, over time, the city has blossomed into a melting pot of every culture you can think of.
So, as Ramadan comes to a close with the cycle of the Islamic Lunar Calendar, Eid Al-Fitr arrives signaling the end of the sunrise to sunset fast that many Muslims undertake for the whole month. It's a gorgeous festival of breaking fast that aligns spirituality, reflection, and community. When the whole community or, with Covid regulations, whomever can meet up, sit down together and share the most delicious dishes imaginable.
Using Eid Al-Fitr as an example, we're hoping to show you a little insight of how we would operate during normal trade (before Covid, and hopefully soon again) to create and develop a menu for an event, alongside our lunch & breakfast catering that we would cater to a business meeting in a corporate office, or a buffet of hot and cold food.
The beginning of the process involves finding inspiration, and a few weeks ago we gave ourselves a little reminder of what Central London has to offer in terms of markets. We sat down, had a think, and reflected on what exactly we wanted to do with the inspiration we managed to pick up on the journey that resulted in some truly wonderful recipes. We wanted to save our meat inspiration to create a wonderfully seasoned slow cook stew that is entirely halal and just in time for Eid.
We began by sitting down and discussing what we wanted to develop, the path that we wished to take and what our theme would be. We had come across some fresh halal mutton that we decided pretty quickly would be the basis of our anchor dish. For us, an anchor dish is the acorn for our oaks to grow. We start with the main taste we want to feature, and then create the different dishes which we want to have similarities and union with the anchor dish, but still create a diverse set of options for customers. This led us to using mutton that will deepen it's flavour, when cooked over low heat over a long period of time, and help soften the gamier taste as well as the texture resulting in cubes that will literally melt in the mouth.
Already, we can feel the outline of where we would be taking the protein, but the next decision results in aligning this year's menu with the cohesive journey. A large number of countries celebrate Eid and participate in Ramadan, so we wanted to find focus in our approach that would allow anyone who eats our food to be transported to a specific location and time, and live a snippet of what that would feel like.
Members of our team have roots in Morocco, and we'd had the amazing experience of visiting a Moroccan restaurant 3 years ago for our winter break dinner, so using the expertise of our team and the fond memory of a great bonding session we chose Morocco as the base theme for our dishes.
The next step in this entails a lot of testing. Practice, practice, practice. We essentially spend a few weeks playing with flavours, tasting what we've made, and then reattempting. It's fairly easy to create a good dish, but we're more interested in creating something that combines function with taste. We have to tweak our dishes to think of a client in an extremely important meeting that's just gone on and on and requires the team to eat through their work. This brings in some important factors. A stew can't be too wet or oily, so that it doesn't splash when being eaten and create a mess or cause a stain on someone's expensive outfit. It can't be heavy, and make people sleepy halfway through the day, but it still has to be filling.
These kinds of specific requirements are what makes corporate catering different from an average restaurant. There are some textures and consistencies that we just don't feel comfortable with serving, and we really do our best to put ourselves in the shoes of the people using our service, and make sure that they have the safest, cleanest, tastiest experience.
Throughout our testing period, we had created some wonderful Moroccan inspired dishes, but whilst celebrating an iftar (the meal that breaks the fast at sunset during each day of ramadan), one of our chef's came back to us raving about a Dhaniwal Korma, that uses a creamy yoghurt gravy as it's base, and we attempted in the kitchen. It was, if we do say so ourselves, simply stunning. Although we had started with Morocco as an inspiration, we enjoy letting ideas blossom naturally and if something is as good as this was, we are more than comfortable in altering our original idea to accommodate gold in the form of food.
There are only a few key rules that we feel we must adhere to:
– Taste. It must be delicious, and we'd have to be able to eat it ourselves everyday for a week and not get bored.
– Texture. There has to be contrast and variety in textures, and they must be easy to eat in an office environment with the compostable cutlery that we provide.
– Vegetarian options with Vegan or Gluten Free available upon request. At their very least, the menu must have a multiple set of options for vegetarians, and options that can be altered to be Vegan or Gluten Free if required.
– Safety. Allergens and nutritional information must be finalized so that we can provide the most information to those with dietary requirements, or people with allergies.
– COVID safe. This is a newer rule that has surfaced since the start of the pandemic. Anything we deliver, or create, must be done so with all necessary precautions (and then some) regarding the spread of the virus. It has to be easy to deliver, able to be individually packed, and safe as can be.

So with these rules in mind, and the freedom to express, we had created what we believe is an exciting menu. So the next step would be design. Here, I would personally take all that we've worked on together, and open photoshop and have a swing at creating a menu that we could scrutinise and improve upon.
An example of which is below:
So that brings us to the last bit, where we would fine tune, tidy up, and add or remove things here and there to make it perfect for our goal. Yet, with the pandemic still around, what is different now? Well now we do things similar, but with a lot of offices having staff working from home, we've adapted to reflect the change in how we provide it.

Event based catering is something that we still provide, but now we create home catering boxes, such as our Easter or Mothers Day boxes, that encapsulate the spirit of the holiday and event but are completely contained in these beautiful boxes that are delivered straight to the whole team's individual doorsteps. Across the whole country, we're immensely proud of this adaptation, and although we still provide our day to day service completely covid safe to offices, we now have become available to those working from home. It was actually such a hit, that we were able to adapt our famous breakfast platters into breakfast meeting home boxes too. The uncertainty of the current climate and situation has been, for us and many others across the country and globe, a bit terrifying. The pressure was on to create and innovate, to adapt to the changing waves of restrictions and removal of everyone from their offices all at once. The team have pulled together and revealed in the challenge, and complete change in tactics and expectations.
If you're working from home, or in the office, we're still here and providing. Let us know if you need anything, or would like to see something from us that you think your team in the office, or home, would love to have delivered.

Keep safe, and see you soon.
Siina