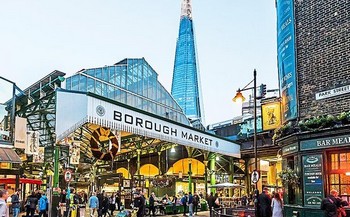 Finally, the dawn of Spring and the blossoming petals beginning to bloom after a few months of slumber, and the transition into the toastier months of Summer brings the abundance of sumptuous fruit, tantalizing vegetables, and a flow of inspiration.
At Le Montmartre, we've always taken the seasons and their personalities and used them to influence our catering. The question is, how do you bond with mother nature and all she has to offer when you're entombed in a concrete and stone jungle? From the outside, Central London certainly doesn't seem to offer much in the way of naturality, but if you know where to look, and look closely, you'll find markets teeming within. From the iconic and bustling Borough market, which sits right next to London Bridge (located a literal stone's throw from our Cornhill Street, next to Leadenhall market, kitchen) to the exotic display of seafood and fish in Billingsgate market at Canary Wharf, London has much to offer, and we took her up on it to find our inspiration for our next menu, and how to celebrate London's culture and food.
On our first day, we left our kitchen near Temple Station and started by heading to Billingsgate Market (at the crack of dawn) with an idea in mind, but not sure how to cater to it, and where else to nurture a recipe designed around fish, but at England's largest inland fish market. As a company in London, we knew it was important to find the balance between vision and functionality in what we'd choose, and whilst stumbling through the isles dressed in exotic potential, we managed to reintroduce ourselves to the beautiful simplicity of British smoked salmon. Salmon has always been a perfectly malleable ingredient for hot and cold dishes, that ranges from afternoon tea to ratatouille in our hot buffet, and inspired us here to innovate on some delicious food. The early morning roads near Canary Wharf were fairly empty (London is never that quiet), and the chorus of activity to greet us at the market was immense, making it a travel of ease and a reward that was well worth the journey out. Happy, but with slightly wet soles from all the melting ice, we moved on to our next stop…
Borough Market, London Bridge.
We arrived at the compact and historic scene packed with street food and market stalls, located just a few meters from London Bridge as the low morning sun sparkled off of the Shard. The atmosphere started with a trickle, as we had arrived right after the market opened, but soon it was rippling and intense, bustling and an embodiment of the nature of corporate catering. There was demand, and supply, all being met in flash moments amid a backdrop of fanciful colours beneath a sea of green steel. Here, we found ourselves stopped in front of a fresh pasta stall that set the imagination into overdrive, surrounded by fresh ingredients, steaming street food and the most wonderful buffet of scent and sound. Armed with a handful of fresh herbs, and a mind set vividly alight, we left knowing we'd be making a pesto and experimenting to create the next greatest office lunch.
On the next day, another early start (which as caterers in London, we are quite used to!) took us out to New Covent Garden, where we beat the sun to have a glimpse at the array of fresh fruit and vegetables on display. This was by far the most pleasantly vibrant and aromatic experience of all the markets that we visited. Spring and Summer seemed to be delicately ensnared in every piece of food and flower on display, and the smells were beyond heavenly. The incandescent purple vitelotte potato, yellow patty pan squash, and the most perfect san marzano tomatoes we'd ever laid eyes on
surrounded us. We thought, how do we take this beyond a sandwich platter, and do such wonderful food justice? (more on that in part 2!) We were left with the deepest well of encouragement to find some companion protein for this wonderful veg, and departed to catch the tail end of our next market…
Smithfield Market.
Although the dawn of the working day had begun, for Smithfield Market, that was the signal to start shutting shop. We'd left enough time for ourselves to arrive and still catch the momentous atmosphere that was bubbling away inside. The
Central Market and Grand Avenue were littered with snippets of historical information that remind you that you've arrived in a market that has thrived here since the 10th century. Individuals, chefs, and representatives of catering companies were pouring in and out of the entrance flap, and thus we entered finding ourselves in a rather chilly room of compact market stalls. With the jarring temperatures of hot and cold from outside to in, the display of England's finest meat on offer really began to vibe with our earlier vegetable and fruit experience. With such an exemplary example of meat available, how could we not start to churn the thought of sticky sesame beef on rice (who doesn't love bowl food?). Everything we looked at could be taken on the perfect process to wind up in an office manager's lap and create the perfect lunch meeting's delight. Some cheeky attempts at bartering over counters left us hungry, so we set off
across Tower Bridge to our next stop, to see some examples of what creative minds can formulate with food.
Maltby Street Market, near Tower Bridge, has many famous street food stalls that differ massively from corporate hospitality, but one ingredient is exactly as you'd find it in a caterers kitchen too. Passion. That was one item in abundance here, and we could feel it tingling through every piece of our person. Gyoza served on a bed of kale and garnished with home-made sauces, fragrant baji's of mutton and onion freshly made and messily eaten, there was even an on the go afternoon tea which is one of our favourite things to provide in business and office, so we of course had to have a try. To
be honest, we tried quite a few things, and by the point that I had personally finished my consumption of wonderful street food, you could probably have rolled me to our last stop, which coincidentally, required me to keep eating.
Realising that the day was moving on, we walked some of the abundant calories off on our way back to work, and visited our last stop on our trip to Old Spitalfield Market, Liverpool Street. A market of more variety than food, yet still present in the form of stalls and restaurants. We caught a product launch at one of the stalls, which was entertaining with the rambunctious gentleman informing everyone in the vicinity, and puttered through the numerous offerings of finger food on display. We sat under the warming glass roof that exaggerated the sunlight, and heard an account manager
speaking to his colleague about a private client they had, and whether they should bring them to the market because the food was out of this world.
It was a perfectly fitting end to our journey to hear it and it felt quite serendipitous. As it is our mission to bring hot and cold, finger food and buffets, and delicate pastries to the office's of the people around us, to bring our love and passion for food onto the desks of every office manager and team that feels the way about food that we do, but doesn't always have the time to head out, or seeks the professionalism of the office's boardroom, but over an afternoon tea worthy of a passionate food market in south London. So make sure to join us in part 2, where we turn our imagination, that has been
so nurtured, into creation for our summer menu.
Please note, our trip took place between lockdowns, and all precautions and social distancing measures were taken! Keep safe and see you soon