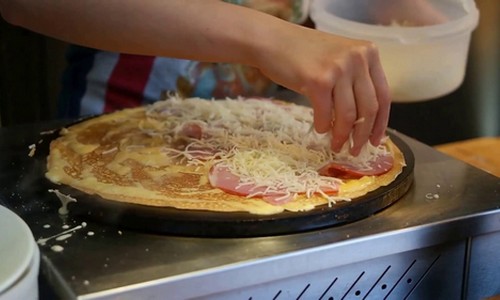 Offices are now reopening!! It's time to welcome back all your teams and thank them for their dedicated work for the last 2 years while working from home. We can help you organize the best pop up events in your office!

With Shrove Tuesday approaching, the best idea is to arrange a Crepe pop up station in your office.
Our teams would come and prepare warm crepes in front of you. Your staff will be able to choose either sweet or savoury options.
Our savoury options includes cheese, mushrooms, tomatoes & ham. They can choose also a Gluten free or vegan options.
And the sweet options includes, Nutella, strawberry jam, lemon juice, sugar, fresh fruits and whipped cream!
The minimum order is for Pancake day Pop up are :  100 crepes for the 1st March and 50 crepes for the other days. And you can choose from the 3 following serving windows : 8am to 10am, 12pm to 2pm or 3.30pm to 5.30pm.
For small teams, we also have a DIY option, where we deliver you fresh crepes and fillings. For this options, the minimum order is only 20 crepes. 
If you're still working from home, we also have a Pancake day Hamper for home delivery. It includes all you need to make crepes at home with your family or friends!

At Le Montmartre, we love crepes, and we make sure your Shrove Tuesday will be unforgettable!
Check out below the video or our latest Pancake day Pop up in London offices