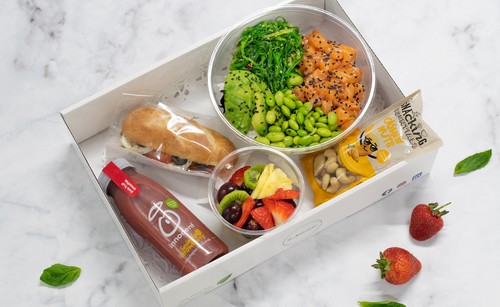 Since 2010, Le Montmartre has been extremely dedicated to serving its clients with delicious food and the best service. As COVID-19 struck, the catering industry was thrown into shock and we were uncertain of what would come next. As a team we had to be quick-thinking and develop great systems to provide safe and smart solutions for you, our clients, who have been an essential part of our continuous growth.
Trying something new…
Our creative team jumped into action in developing new systems to fit the 'new normal'. At Le Montmartre, with our innovative thinking we created our bespoke platform Lunch2desk. This is a smart way to motivate teams to come back to the office once restrictions are lifted. Also it can be a way to save cash by replacing the usual canteen by a more adaptable service. Our new daily lunch service allows office staff to order their favourite hot or cold meals without leaving their office. Food is safely packed and labelled individually and then delivered for free. Businesses using this service can contribute anything from £5 to the full cost of each lunch.
Your point of view matters to us…

We have been asking our valued clients about their thoughts on a few subjects to better understand and empathise with their needs. This process is helping us to continually develop practical solutions to adapt to the changing landscape and these unprecedented times.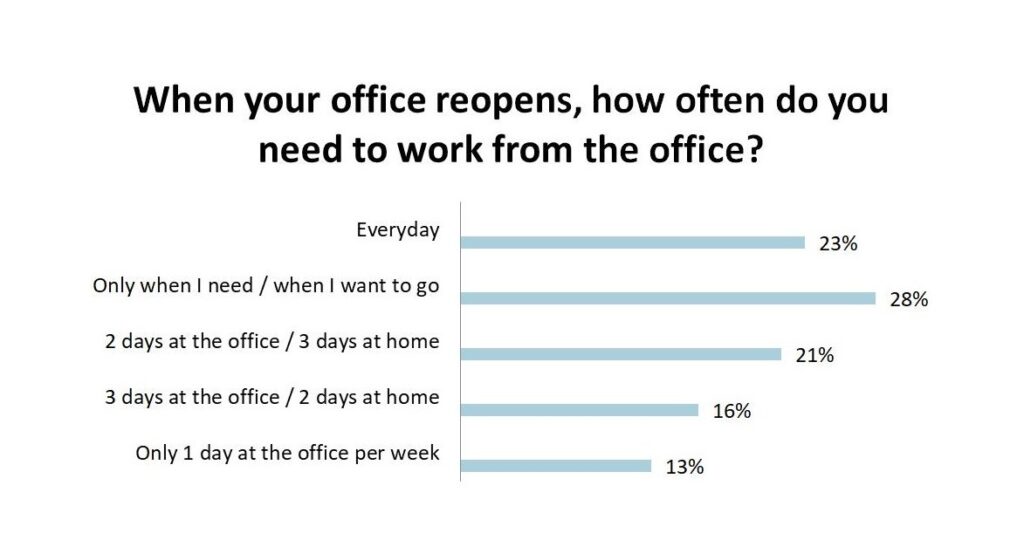 While some people have already returned to the office, we have seen an eagerness from those still working from home to finally get back to the workplace – notably, a quarter of people say they can't wait to get back to the office and socialise with their colleagues. A further 25% of people are in fact looking forward to spending some time apart from their partner for the day.
Of the survey respondents, a tenth will miss being able to share a meal with their families on a daily basis. The same number would also miss working in their pyjamas!
The vast majority of office staff are pleased with the extra flexibility provided to them and will be going to the office only a few days a week.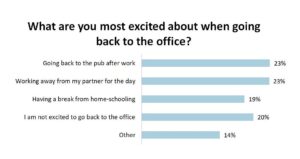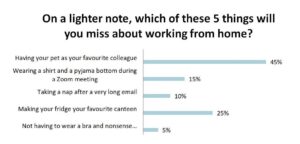 The new lunchbreak challenges!
Working in skyscrapers brings increased challenges to office workers in this new era. The large majority will work on staggered shifts to spread lift use and more than 70% will not be allowed to go out for lunch.
Office workers are therefore being asked to bring their lunch in the mornings or to order a delivered lunch. With these new restrictions, Lunch2desk becomes the perfect alternative solution for many of these businesses. Indeed, our service requires only two staff from Le Montmartre to bring up hundreds of meals at once to all levels above the 5th floor.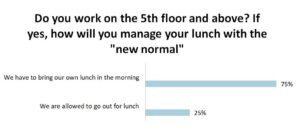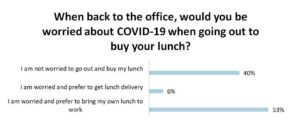 The concerns illustrated above have made our team at Le Montmartre highly focused in structuring our daily Lunch2desk service in a way that suits our customers' needs. Our usual catering services are running as normal, but we recognise the need for our customers to adapt to the changing times. Our aim is to work hand in hand with you so that we can collectively reduce the risks your employees face while still allowing them to enjoy delicious food.
As the saying goes, "failing to prepare is preparing to fail".
Yes, the new normal is indeed NEW – but we are READY and PREPARED to help you get started!